Media Recs from My Quarantine to Yours
Running out of things to watch while you social distance? Wanting to branch out and explore something new? Here's a few of the movies, shows & YouTube offerings I've been enjoying over the past couple months that I think you might like, too.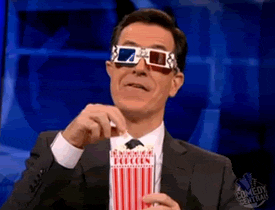 Movies:
Knives Out (PG-13): A hilarious, non-scary murder mystery with some great twists and a killer cast. Possibly the best American-made film of 2019. Available for rent on Amazon Prime, YouTube, Google Play, and Vudu.
Emma (PG): I don't know what anyone else thought about this adaptation of the classic Jane Austin novel, and I don't care, because I thought it was great. Especially if you need some lighthearted escapism. Available for rent on Amazon Prime, YouTube, and Google Play.
Parasite (R; not recommended for younger audiences): Yes, I am the last person on the planet to see it, mostly because my tolerance for scary movies is LOW, but there's a reason why this film won so many awards, and you should definitely (re)watch it if you're in the mood for something thought provoking. Available for free on Hulu or to rent on Google Play, Amazon Prime, and Vudu.
Cats (PG): Hear me out on this one. Is Cats a masterpiece that moved the cinematic needle and should be cherished forever? No, of course not. Is it a nonstop rollercoaster of surreal, ridiculous, unintentionally hilarious nonsense? Yes, and that's why it'll be one of the most entertaining two hours of your life. Available for rent on Google Play, Amazon Prime, YouTube, and Vudu.
Bad Education (TV-MA; not recommended for younger audiences): Not only is Bad Education based on the incredibly compelling true story of the biggest public-school embezzlement scandal in American history, it also stars Hugh Jackman. Available on HBO Now and HBO Go.
Shows:
Brooklyn Nine-Nine (TV-14): While Brooklyn Nine-Nine isn't a new show by any stretch, it is still, in my opinion, one of the all-time best comedies. The cast is lovely, the writing is hilarious, and the jokes often subvert societal expectations and punch up rather than down. Available to stream on NBC, Hulu, and YouTube TV.
What We Do in the Shadows (TV-MA; not recommended for younger audiences): Based on the film by the same name (which you should absolutely also watch if you haven't yet), What We Do in the Shadows is a delightful, mocumentary-style comedy about a group of vampires who live together on Staten Island. Available on Hulu and YouTubeTV.
Self Made: Inspired by the Life of Madam C.J. Walker (TV-MA; not recommended for younger audiences): At turns hilarious and gut-wrenching, this 4-part miniseries about Madam C.J. Walker—the world's first female self-made millionaire—touches on issues of racism, colorism, Eurocentric beauty, and Black life in the late 1800s. Plus, it stars Octavia Spencer in what might be my favorite role of hers so far. Available on Netflix.
YouTube Series:
Gourmet Makes by Bon Appétit: I am not the biggest fan of food shows, but Bon Appétit's YouTube channel is full of lighthearted, engaging content that's easy to binge. My favorite of their series is Gourmet Makes. In each episode, a chef (almost always Claire Saffitz) tries to recreate a mass-produced food from scratch. Think Cadbury eggs, Jelly Bellies, Warheads, etc. Things I would never even think to attempt at home (or in a professional kitchen). It makes for fun, unpredictable entertainment.
Everything created bySailor J (possibly not suitable for younger audiences): Although Jahkara Smith stopped making YouTube videos over two years ago and is off doing bigger and better things, her channel still has the power to make me laugh until I cry.
Livestreams by Town Hall Seattle: Whether you're passionate about science, jazz, social justice, or Welcome to Night Vale, Town Hall Seattle's diverse selection of virtual live events is sure to have something you'll love. Plus, the fact that they're livestreams adds a sense of socialization and community that I think many of us have been missing in recent weeks.
So, that's what I've been watching & enjoying recently. How about you? I'd love to get your recommendations—or hear if anything I mentioned has been keeping you entertained, too.
Caitlin Foskey
"Rock On!"