Panel Recap: Enter LAIKA: Behind the Scenes
Veronica Hernandez, Senior Roto/Paint Artist at LAIKA and the host of the Enter LAIKA: Behind the Scenes panel, kicked off her introduction to LAIKA with the clip above. "We're all super geeks," she explained when it ended. "At LAIKA, being weird is a superpower. We get to come together and make these amazing films."
A lifelong film geek, Veronica had every intention of going to art school, but took a detour to cultural anthropology. Despite this, she entered the film industry in 2000, where she began by "dust busting," or scanning films into digital and then digitally restoring them. Her list of restoration credits includes Fantasia, Superman with Christopher Reeve and Singin' in the Rain.
In 2008 she became a Roto/Painter at LAIKA when it was still an unknown company. The first film she worked on was Coraline, for which she removed rigging and corrected puppet imperfections on each individual frame.
From there Veronica worked on ParaNorman.
Veronica showed us the clip above and explained that, for ParaNorman, her job was to paint his expressions, fix holes in the puppets, correct the puppet colors, fix lighting inconsistencies, patch neck seams, remove rigging, and more.
"I'm like a digital plastic surgeon," she explained. "If I do my job right, you won't notice it at all."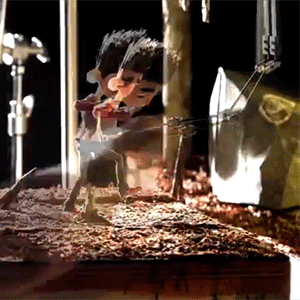 LAIKA pairs art with technology, often creating crowds of background characters in CG to save time (adding all those extras would build another year into what are already 3-4 year projects) and shooting scenes on green screen and adding backgrounds in later.
Every LAIKA film has been nominated for at least one Oscar. Veronica said each nomination is a total honor—every year they're nominated, her coworkers get together to watch the Academy Awards as a team. Likewise, she shared that, "when the movies come out, we're just as excited as anyone else. We love when people send us things, dress up, all of that. It's not lost on us."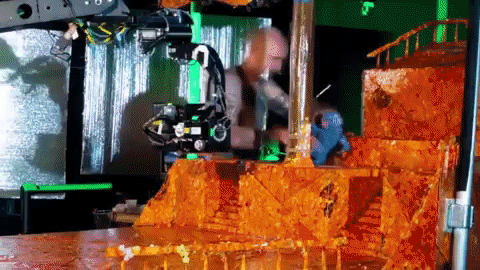 LAIKA's next film is Missing Link, which comes out April 12. Veronica described it as the funny story of a character trying to find people like him. As someone who grew up geeky and "weird," Veronica said she finds the film relatable, adding that she's found her people at LAIKA, even though she still feels out of place in the world.

Related Posts
Caitlin Foskey
"Rock On!"